A. Come and Try
If you've never sailed before, or it has been a long time since you have, then a Come and Try session is the best option for you as an introduction to the club.
Book a Come and Try session
B. Join
If you are ready to join then please complete the application form on our membership system (we use a system called 'Webcollect') or contact the Membership Secretary for more information first. Please also see below for membership rates and requirements.
Join today via Webcollect (Use the New Member Subs Tab)
Membership Rates 2023
Please note that club membership is Annual and runs from April to March.
Offer:

Pay no joining fee in May 2023

Please be aware that we keep our rates as low as possible and we do not charge for any activities (Including training) which are all provided for FREE by volunteers. You membership fee only pays for the Clubs costs (Rent, Rates, Licence to use the water, Power, Insurance, Cleaning and Building upkeep etc). Because of this we ask all members to pay your part and help with the running of the club – in particular, the one specific requirement of membership is that you help out with a Race Duty a few times a year.
£42

One time joining fee

All new members (excluding individual Junior members) are asked to pay a one time joining fee.
£110

Single Membership

Single adult membership.
£150

Family Membership

Family membership for up to 4 people in the same family.
£55

Student Membership

Available for those in full time education under the age of 26
£35

Junior Membership

Single junior membership (Under 18), no joining fee required. (Please note that Juniors must attend with a responsible adult at all times)
£55

Reciprocal Membership + Boat space

Available for members of other clubs for a single year (not renewable) – includes a Boat Park space.
£35

Associate Membership

Available for non sailing members who wish to use the clubs facilities.
---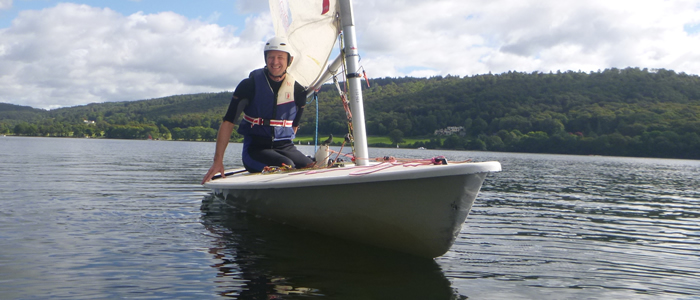 Boat Registration and Storage
£120 Per Boat, Per Year (Boats for Juniors £35*)
We have a boat size restriction of 15ft due to the size of the tarn and the dinghy park. Dinghies must be insured with £2 million in liability insurance, but insurance is normally inexpensive.
The club has a number of boats available for use by members during club racing and training activities. These include 4 Lasers, 1 Wanderer, 2 Enterprises, 4 Herons, 4 Toppers, 3 Picos and 1 Optimist. You won't be expected to buy a boat straight away if you are new to sailing, but it is best to consider owning your own (or sharing ownership) once you are experienced enough to rig, sail safely and derig on your own.
Club members will be more than happy to offer you advice on purchasing boats, although a £100 boat on eBay may seem like a bargain not to be missed, usually you will end up spending more than the purchase price on maintenance, particularly with wooden boats.
* Further details are available from the Membership Secretary membership@yeadonsailingclub.co.uk