On the sunny afternoon of Saturday, 24th of June, families gathered at Yeadon Sailing Club for a day of exciting activities both on and off the water. The family event was a resounding success, thanks to the efforts of Tony, Tim, and Geir, who organised a range of enjoyable experiences for everyone involved.
Fun in the Sun
A radiant sun graced the skies as the day began, accompanied by a steady and refreshing breeze. Participants arrived to enjoy their lunch, basking in the glorious weather. The younger family members discovered a delightful surprise in a newly installed sandpit hidden beneath the plastic bench seat, providing endless entertainment and something else to eat for the tiny ones! (Yuck!)
Adventures on Land
The fun continued with an all-day archery, allowing participants to test their skills and aim for the bullseye. Water pistols provided a refreshing way to cool off and engage in friendly battles under the sun. Meanwhile, Tim devised an exciting treasure hunt within the dinghy park, challenging everyone to unlock the secret to happiness. Surprisingly, the answer turned out to be "Sailing," reminding us of this activity's joy and fulfilment.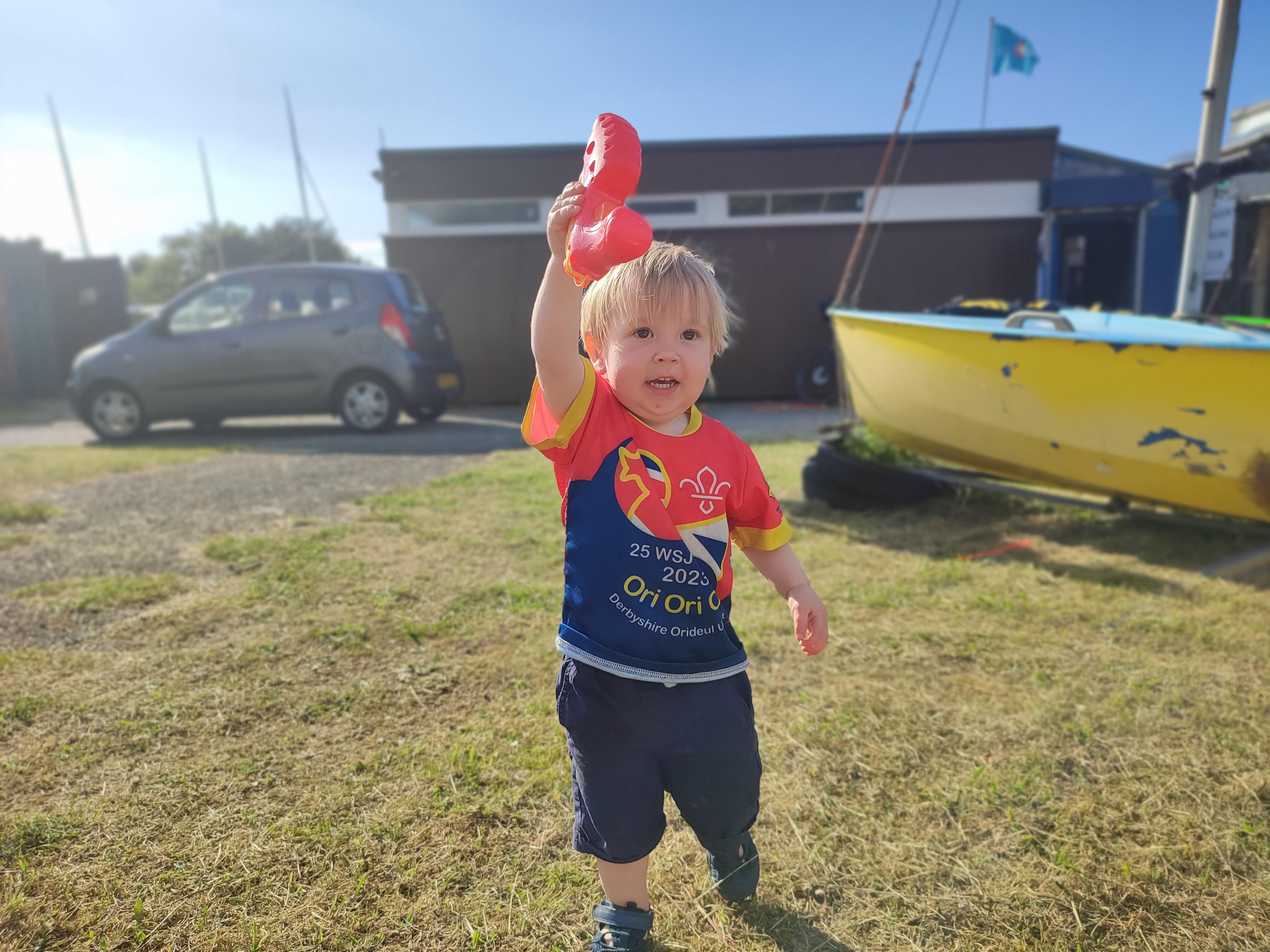 Sailing Excitement
At 1 pm, the eagerly awaited on-water activities commenced with an opportunity for free sailing. Tony arranged for a Stand-up Paddle Boards (SUP) loan from Leeds Sailing and Activity Centre, thanks to AP and the LSAC team. Sailors of all ages also took to the water (the youngest being 4!) in boats of all classes to enjoy the perfect sailing conditions.
A Test of Skill
The traditional bottle race at 3 pm injected an element of on-the-water competition into the day. Chris and Geir expertly scattered bottles around the tarn, prompting the sailors to embark on a thrilling pursuit. AJ and their crew emerged victorious, amassing an impressive haul of 20 bottles. Notably, Martin and his four-year-old daughter also demonstrated remarkable skill, collecting a substantial number of bottles themselves in Mole (club Heron).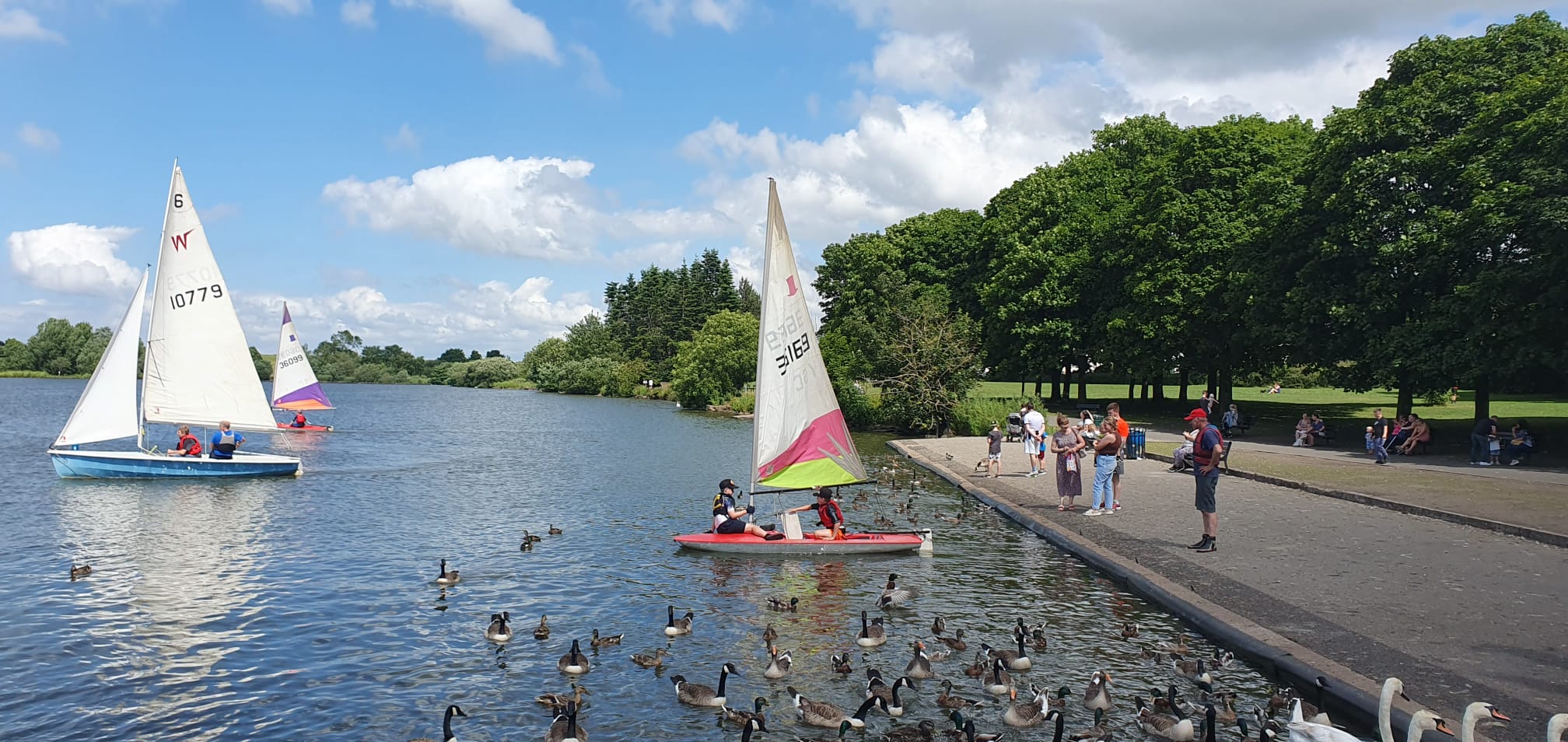 Community Bonding
Beyond the water-based activities, the Family Fun Day provided an opportunity for members to reconnect and enjoy each other's company. Many took advantage of the shade to chat and watch the kids have fun on the water from a safe distance. It was particularly heartwarming to see familiar faces, including Glenis, who joined us for the day.
Unwinding and Farewell
The on-water activities culminated with a thrilling SUP race around mark number 9, followed by an exciting one-lap race in the sailing dinghies. As the day drew to a close, Geir started the BBQ, offering a chance to unwind with a burger and a few drinks in the evening sun.
The organising committee would like to extend their heartfelt appreciation to all those who attended the event. Special thanks go to Tony, Tim, and Geir, whose efforts and meticulous planning made the day an extraordinary experience for all, and to LSAC, who kindly supplied additional equipment.